How to Half Double Crochet
This post contains affiliate links to products I recommend to my readers. If you click on one of these links and decide you'd like to make a purchase, I will make a small commission (at no extra cost to you).
Are you new to crochet and ready to increase your skills? If you can chain and single crochet, learning how to half double crochet will be a snap. The half double crochet stitch is incredibly versatile and used in so many types of crochet patterns. I've used it when making hats, garments, blankets, and more!
This stitch is called a "half double" crochet because it's about half the height of a double crochet stitch (a little more than half, really). If you were to line up these stitches by their height, single crochet would be the shortest, then half double crochet, then double crochet. Half double crochet stitches create a fairly dense fabric – looser than single crochet but with smaller gaps than those created by double crochet.
You can use the tutorial below to learn this fun stitch. Whenever you're learning a new crochet skill, I always recommend using a larger hook and lighter yarn – such as a worsted weight yarn in a light color (easier to see and count your stitches), and a size I/5.50mm hook, but use whatever works best for you.
How to Half Double Crochet
Step 1: Slip Knot and Chain
Since we'll be practicing in rows, we'll begin by attaching our yarn to our hook with a slip knot, then chaining. For this swatch, let's chain 20. The photo below has the number of chains marked.

Step 2: Make Your First Half Double Crochet Stitch
Use your non-dominant hand to hold your chain stitches steady. Then, yarn over and insert your hook into the 3rd chain from the hook (see photo below).
Now, with your hook still inserted, yarn over again and draw up a loop. You will now have three loops on your hook. Yarn over for the final time, and pull through all three loops on your hook. This completes one half double crochet stitch (abbreviated as hdc).
Step 3: Half Double Crochet in the Remaining Chains
Now that you know how to make this stitch, continue to follow the steps above for each remaining chain stitch. When you've finished, you should have 18 hdc stitches.
Step 4: Make the Next Row
Once you've reached the end of the chain, it's time to make the next row. To do this, we'll need a turning chain. When working with half double crochet, we use a turning chain of 2. Some patterns will count the turning chain as a stitch and some won't, so just remember to look for that when following a specific pattern.
For this swatch, I'm not counting the turning chain as a stitch. So, we'll chain 2, then hdc into each stitch we made in the first row. This gives us a total of 18 stitches for each row.
Step 5: Keep practicing!
You can continue to practice by making as many rows as you'd like! You just need make a turning chain of 2 and turn your work after every row. The more you practice, the more even your tension and stitches will become. When you're ready to fasten off, pull your last loop through a few inches, and cut your yarn. Use a yarn needle to weave the yarn end through the posts of your stitches. This video by Melanie Ham is a good example of how to work this stitch.
Let me know if you have any questions in the comments! You can learn about more stitches and crochet techniques by visiting these Stitch Tutorials and Resources as well. Happy stitching!
Keep this tutorial on Pinterest as a reference by saving here!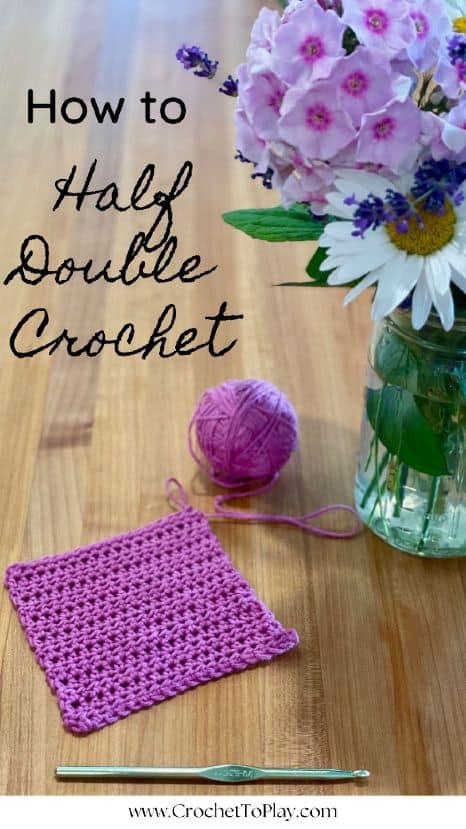 © 2023 Crochet to Play
All rights reserved. This blog is property of Crochet to Play.  The writing and images are for personal use only.  Please do not redistribute, transfer, or sell the writing or images, in part or in whole. Thank you.