I don't know about you, but I love crocheting new things for my kids. I've made so many handmade toys I've lost count! Recently, I tackled making a whole new kind of toy that I've never tried before – a crochet puppet! My kids watched me making it, and wanted me to hurry and finish up so they could play with my newest creation.
As I was thinking through the best way to construct this puppet, I found so many amazing crochet puppet patterns online. I just love the creativity of crochet designers! From finger puppets to hand puppets to full arm puppets, people have made it all.
I've rounded up the ten best crochet puppet patterns I could find, and I'm sharing them here with you today. I know you'll love them, too. Let me know which you decide to make first!
1. Crochet Whale Puppet
Remember when I said what got me thinking about crochet puppets was designing my own? Well here is how it turned out! I made this Whale Puppet and am so happy with the result. And trust me when I say, it is irresistible to kids and adults alike! Everyone wants to try it on and play with it. You can find the whale puppet pattern here, or check it out as a Jonah and the Whale set here.
2. Three Little Pigs Hand Puppets
Erin from EkayG Designs has so many cute puppets I couldn't choose just one to share (see #7)! You know how much I love toy sets, and she's got them all over her blog. If you make her Piggy puppets and match them with her Big Bad Wolf puppet, your kids will be busy playing for days! Start here with the pig puppet pattern for free.
3. Goose Hand Puppet
I think this Goose Puppet from Craftzilla is as cute as can be! I love how the design uses simple stitches and just a couple of yarn colors to make a big impact. You can get the pattern for free right here.
4. Safari Animals Finger Puppets
Any search for crochet puppets brings up finger puppets too. And why not? They are so fun! Annie's Craft Store has the patterns for five Safari Animal Finger Puppets – including an elephant, crocodile, hippo, lion, and zebra. You can find the patterns here.
5. Boris the Wolf Hand Puppet
If you're looking for a pattern that is part amigurumi/part puppet, Boris the Wolf is a great choice! This great puppet pattern is designed by Yuki Yarn Designs and available here on Ravelry. It would be a cute option with the three pigs too.
6. Wizard of Oz Finger Puppets
Next up, more finger puppets! And aren't these amazing? CgAmigurumiToys sells the patterns for these Wizard of Oz finger puppets on Etsy. I think the details are perfect and make the characters so recognizable! Find the patterns here.
7. Owl Hand Puppet
Here's another amazing puppet by Erin from EkayG Designs. This time she's got an adorable Owl Puppet for us to make. I love the way she uses crocodile stitches to make the owl's feathers, don't you? Find it for free here.
8. Scarlet Macaw Hand Puppet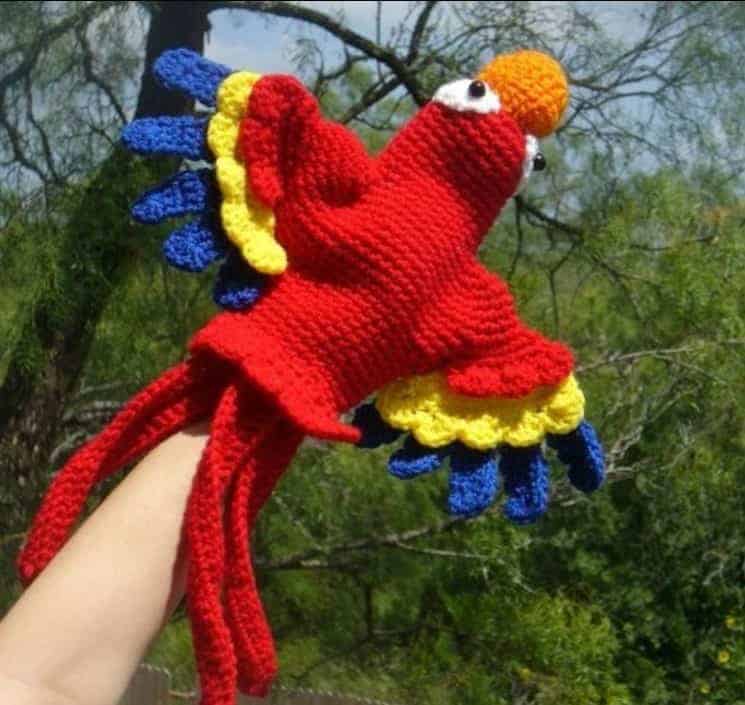 I think this Scarlet Macaw hand puppet pattern from Melissa Mall is so clever! I love the way she designed the beak and feathers and I think kids would just love playing with it and pretending to make it fly. The pattern is available here on Ravelry.
9. Unicorn Hand Puppet
If you have a little one who loves unicorns, then this is the pattern for you! Helen McLean has this perfect unicorn puppet design, complete with what all unicorns need – rainbow hair! Get the pattern here on Ravelry.
10. Teddy Bear Hand Puppet
All of these puppets are cute, but there's something about this teddy bear and the super-soft yarn it uses that is extra adorable! You can find its pattern by NattyToys here on Etsy.
---
Did you find a new project to make? With all of these cute crochet puppet patterns I'm sure you've got lots of new ideas! If you want to keep these ideas handy, click here to save to Pinterest. Happy crocheting!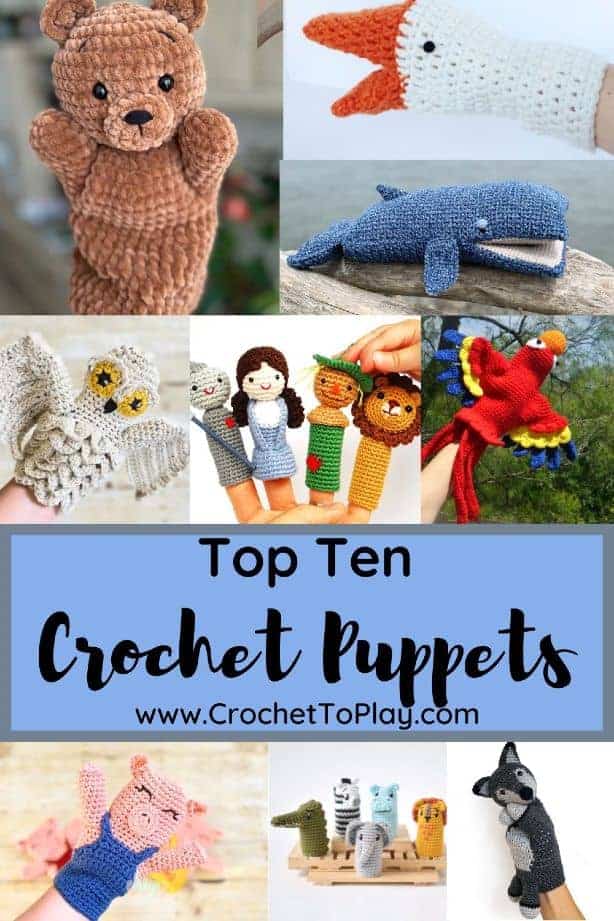 © 2023 Crochet to Play
All rights reserved. This blog is property of Crochet to Play.  The writing and images are for personal use only.  Please do not redistribute, transfer, or sell the writing or images, in part or in whole. Thank you.