This post contains affiliate links to products I recommend to my readers. If you click on one of these links and decide you'd like to make a purchase, I will make a small commission (at no extra cost to you).
As a crochet beginner, the first stitch you often learn is the single crochet stitch. Before you practice how to single crochet, you'll want to first make sure you've mastered chaining. Single crochet stitches are often worked into a foundation chain to start a project, so this stitch is a great place to begin growing your new skills.
Single crochet stitches are one of the shorter stitches you can crochet, based on the height of the stitch. This gives items worked in single crochet a dense, structured texture. Single crochet stitches lend themselves well to amigurumi (crochet toys), bags, baskets, washcloths, and much more.
Ready to learn how to make this stitch? Follow the steps below and you'll be a pro in no time. All you need to practice this stitch are yarn and a hook. I recommend beginning with worsted weight yarn in a light color (easier to see and count your stitches), and a size I/5.50mm hook, but use whatever works best for you.
Steps to Single Crochet
Step 1: Slip Knot and Chain
Before you can single crochet, you will first need to attach the yarn to your hook with a slip knot, then crochet a foundation chain to work your single crochet stitches into. If you're still learning this step, you can use this guide to get you started. For practice, let's chain 16. One chain will be skipped as we turn our hook back, and we'll work our single crochet stitches into the other 15 chains.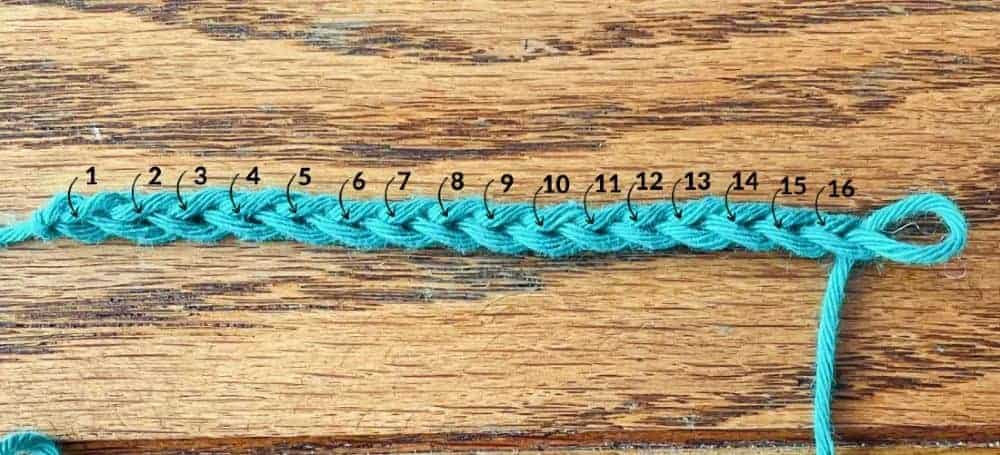 Step 2: Make Your First Single Crochet Stitch
Holding your chain stitches steady, you will see your final chain stitch and one loop around your hook. Turning your hook back towards the chain, insert it into the 2nd chain from your hook. Each chain stitch has a top loop, bottom loop, and back loop (that you can see when you turn the chain over). I insert my hook under the top and back loops and above the bottom loop, but many crocheters insert their hooks under just the top loop.
With your hook inserted, yarn over, grabbing the yarn with your hook. Then, pull the hooked yarn back through the chain. You will now have two loops on your hook. Yarn over again, pulling through both loops on your hook. You have now completed your first single crochet stitch (yahoo)!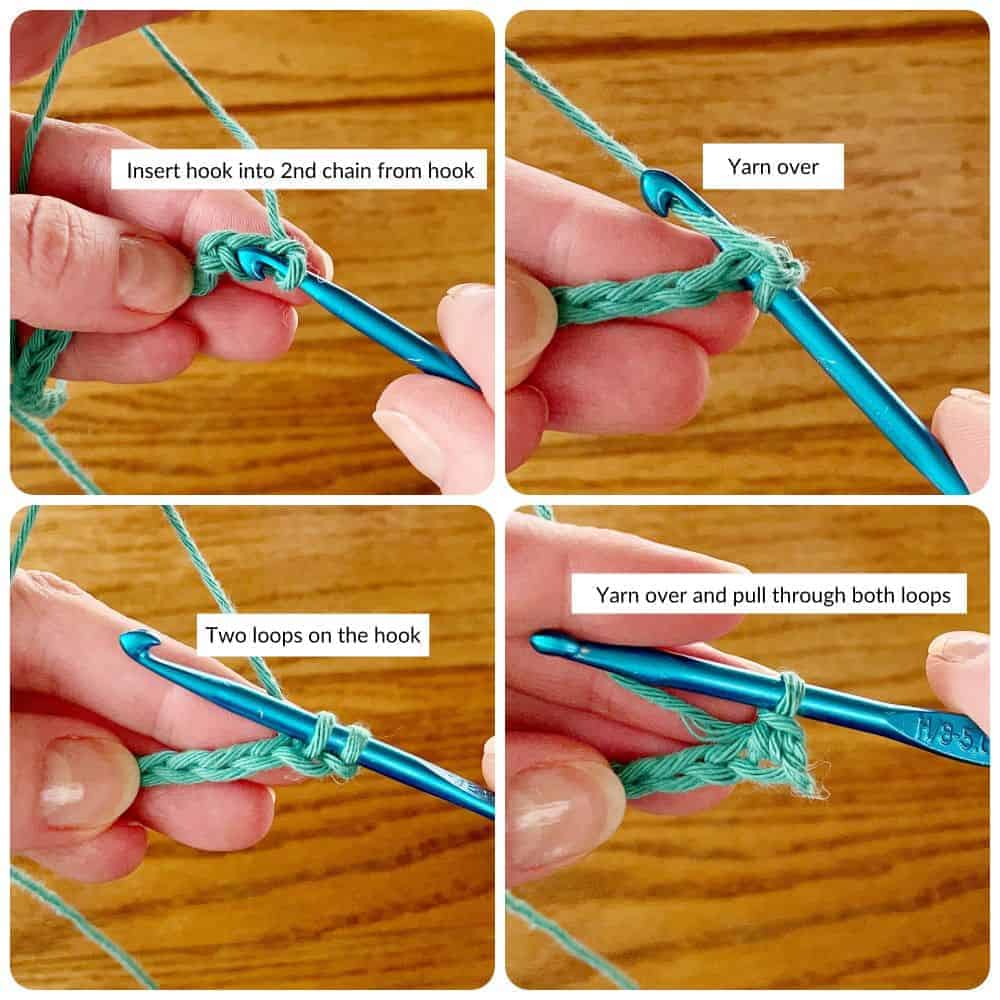 Step 3: Single Crochet in Remaining Chains
Next, continue to insert your hook into each chain, making a single crochet stitch each time. You will work from right to left, toward the slip knot you created before beginning your foundation chain. Since you originally chained 16, and began single crocheting in the 2nd chain from the hook, you will complete a total of 15 single crochets. The abbreviation for this would be 15 sc.
Step 4: Count Your Stitches
Much of crocheting, and reading crochet patterns, includes having an accurate number of stitches in each row or round of your project. As you practice how to single crochet, you should also practice counting your stitches. At first they may be uneven and a little more difficult to count, but with time your tension will become more steady and your stitches will become more uniform.
When you look at your row of stitches, you'll see a short "post" (the vertical part of the stitch), and a sideways "v" (the top of the stitch). I personally think it's easier to count the top "v's" when counting single crochet, as the posts are short and a little harder to see. Both ways to count are shown in the images below.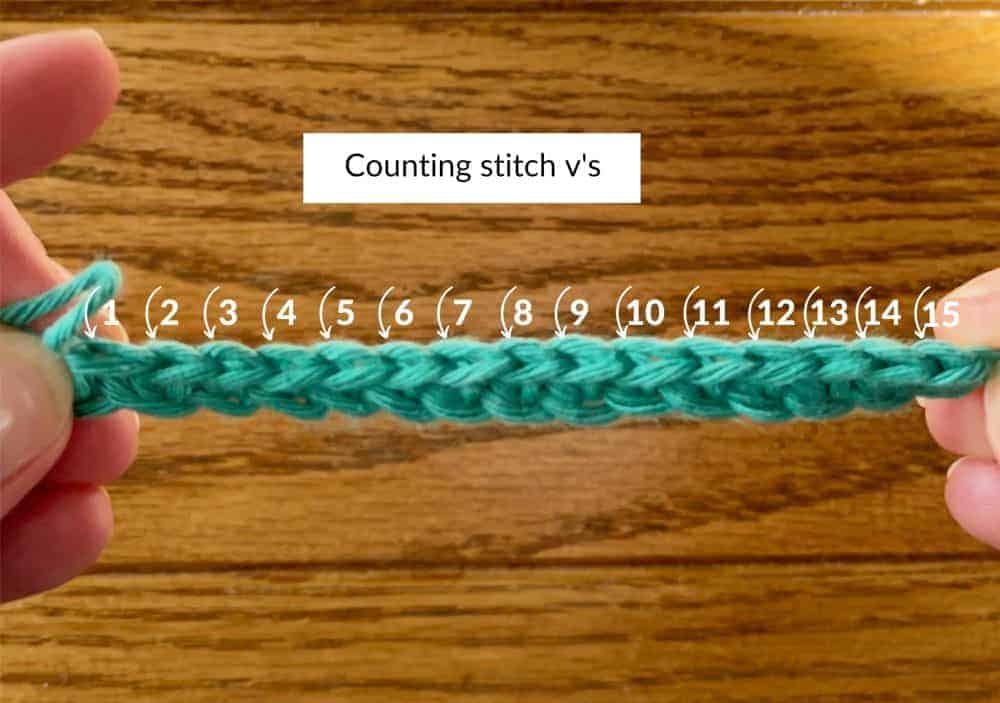 More Practice
You learned how to single crochet one row; now what? Keep going!
So far, you've already worked 15 stitches into the foundation chain you began with. To continue with a second row, you will work 15 stitches into the first row you made. But first you need what's called a turning chain. Here's how to do this:
You should have one loop on your hook after the last stitch of your first row. Now, chain 1 by yarning over and pulling the yarn through that loop. This chain is called a turning chain because it's used when you turn your work.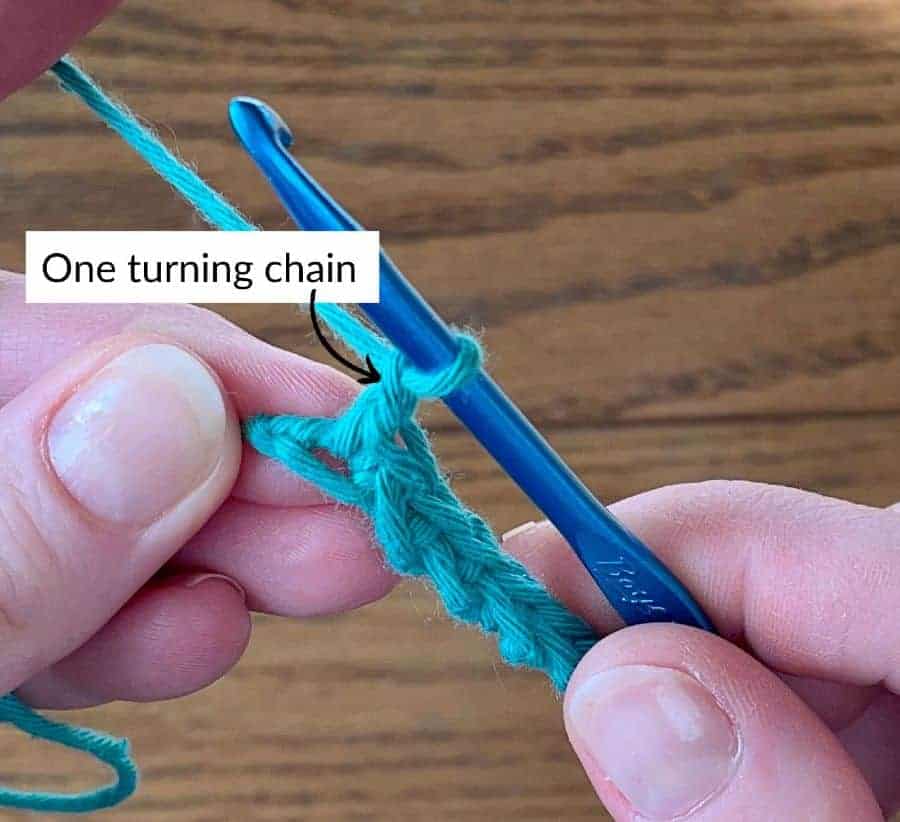 Now, turn your work so that the back of the first row you made is facing you. You will see the sideways "v's" from the single crochets you made in your first row. Insert your hook under both loops of the first v and follow the steps from above to make a single crochet stitch. Continue making single crochets into each "v", working from right to left.
To keep practicing, you can make as many rows as you want. You just need to make a turning chain after each row, and then turn the work each time. The more you practice, the more even your tension will become and the better you'll get. When you're ready to fasten off, just pull your last loop through a few inches, and cut your yarn. You can use a yarn needle to weave the yarn end through the posts of your stitches. And if you'd like to see a video of how to single crochet, this one by The Crochet Guru is helpful. Let me know if you have any questions in the comments!
Keep this tutorial on Pinterest as a reference by saving here!
© 2023 Crochet to Play
All rights reserved. This blog is property of Crochet to Play.  The writing and images are for personal use only.  Please do not redistribute, transfer, or sell the writing or images, in part or in whole. Thank you.