This post contains affiliate links to products I recommend to my readers. If you click on one of these links and decide you'd like to make a purchase, I will make a small commission (at no extra cost to you).
If you're a crochet beginner and starting to expand your skills, learning how to double crochet is a great next step. Double crochet is a common basic stitch and easy to learn. If you can already chain and single crochet, you most likely know how to hold your yarn and how to yarn over. That means you're ready to learn this stitch, too.
Double crochet stitches are popular in many projects, like hats, scarves, and blankets (especially those made of granny squares)! It's a taller stitch, about the height of 3 chain stitches, versus the single crochet stitch which is shorter and about the height of 1 chain stitch. This height makes projects made from double crochet more flexible and have more drape than those made from single crochet, which is more structured and creates a more rigid fabric.
So, if you're ready to learn how to double crochet on your own, read on. All you'll need to practice this stitch are a hook and some yarn. I always recommend that those learning practice with worsted weight yarn in a light color and a larger hook, such as a size I/5.50mm. Using light yarn and a bigger hook can help you to see what you're doing more clearly and help you notice if you've made any mistakes along the way.
How to Double Crochet
How to begin a project that uses double crochet stitches depends on the pattern you're using and the type of project. Some begin in the round and some begin with rows. For the purposes of practicing here today, we will double crochet in rows.
Step 1: Slip Knot and Chain
We'll begin by attaching our yarn to our hook and then chaining 21. Our double crochet stitches will be worked into this foundation chain. See here if you need a refresher on starting with a slip knot and chaining.
Step 2: Make Your First Double Crochet Stitch
Yarn over, then insert your hook into the 4th chain from the hook (see the chains marked below).
Yarn over, and pull your hook back through the chain. You will now have 3 loops on your hook. These steps are pictured below.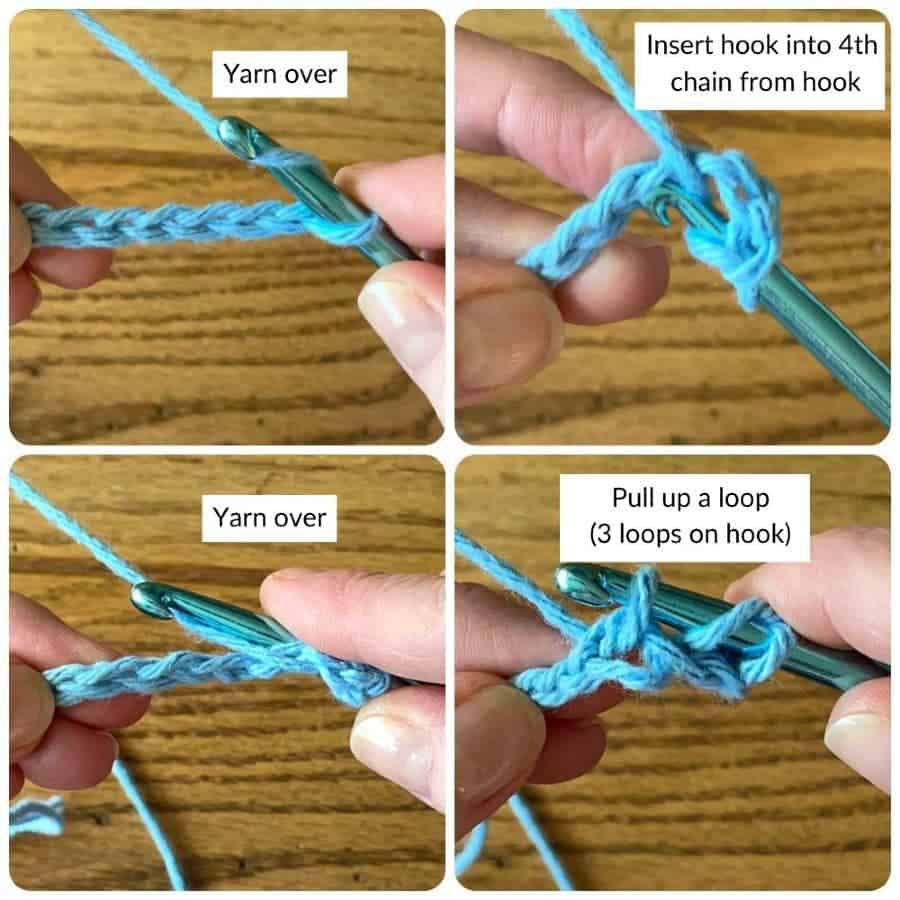 Yarn over again, and pull through 2 loops on the hook. Yarn over again, and pull through the last 2 loops on the hook. You have completed 1 double crochet stitch. These additional steps are pictured below.
Step 3: Double Crochet in the Remaining Chains
You should have 17 chains remaining. Repeat the directions from Step 2 above and work a double crochet stitch into each chain. When you've finished this step, you should have 18 stitches, plus the initial 3 chains that you skipped. These skipped chains are usually counted as a stitch as well (more about that later).
Step 4: Keep practicing!
Just like in single crochet, when we double crochet in rows we will need a turning chain. Because these crochet stitches are taller, our turning chains must be longer as well. Typically, double crochet rows need a turning chain of 3. However, crochet patterns vary and many will have you work a turning chain of 2 instead. You may notice that chaining 3 leaves more gaps and you prefer chaining 2 (in fact, this is my preference), but the traditional amount is 3 chains in a turning row for double crochet.
So, to continue practicing, with the last loop on your hook from your last stitch, chain 3, then turn your work. Skip the first stitch (directly under the chain), and then work double crochet stitches into each previous stitch (under the v's). At the end of the row, work one stitch into the top v of the 3 chains (these are the chains we skipped initially that count as a stitch).
Keep chaining 3, turning, and working stitches across each row as described above. You can make as many rows as you'd like to practice, working on improving your tension and the evenness of your stitches. If you'd like to see a video about this, try this one by the Crochet Guru . Keep practicing and I know you'll be a pro in no time! You can learn about more stitches and crochet techniques by visiting these Stitch Tutorials and Resources as well. Happy crocheting!
Keep this tutorial on Pinterest as a reference by saving here!
© 2023 Crochet to Play
All rights reserved. This blog is property of Crochet to Play.  The writing and images are for personal use only.  Please do not redistribute, transfer, or sell the writing or images, in part or in whole. Thank you.