Valentine's Day Crochet Patterns
Valentine's Day is approaching and love is in the air. The jewelry commercials are on TV and the stores have aisles full of candy and chocolate. Not everything can be bought in a store, though, and if you're like me you've probably been thinking about crocheting a handmade valentine gift. There are so many Valentine's Day crochet patterns out there, and I wanted to sift through and find some gems.
Whether you want to make something for your sweetie, your kids, a best friend, or a special grandbaby, I've got you covered. I think a lot of us crafters show love through handmade gifts. And the recipients feel so special knowing you thought of them and took the time to hand-make them a present.
With that in mind, I've rounded up ten of the best Valentine's Day crochet patterns out there. I know you'll love them too. Best of all, most of these patterns are free, quick, and easy! Scroll below and you'll see pictures and links to the patterns. Have fun!
1. Baby Heart Mittens by One Dog Woof
Can we all say "awwww"! These baby heart mittens are adorable and are available for free on the One Dog Woof blog. The contrast of the pink and gray yarn is perfect and I love the added pom poms. These would be a great gift for a February newborn (I put little mittens on my newborns so they wouldn't scratch their faces). Too cute!
2. Crochet Hedgehog by Crochet to Play
You can find the pattern for this roly poly little valentine for free right here on the blog. The combo of cute hedgehog + heart = I'm in love! Trust me when I tell you kids and adults alike love this sweet critter (I've checked). You can also find the pattern for the heart the hedgehog is holding here.
3. Corner to Corner Crochet Heart by Daisy Farm Crafts
Using just two contrasting colors, you can make this corner to corner heart pattern into a cozy baby blanket. You'll find the free pattern on the Daisy Farm Crafts blog. This would get lots of smiles at a February baby shower!
4. XOXO Pillow by Two Little Birds Patterns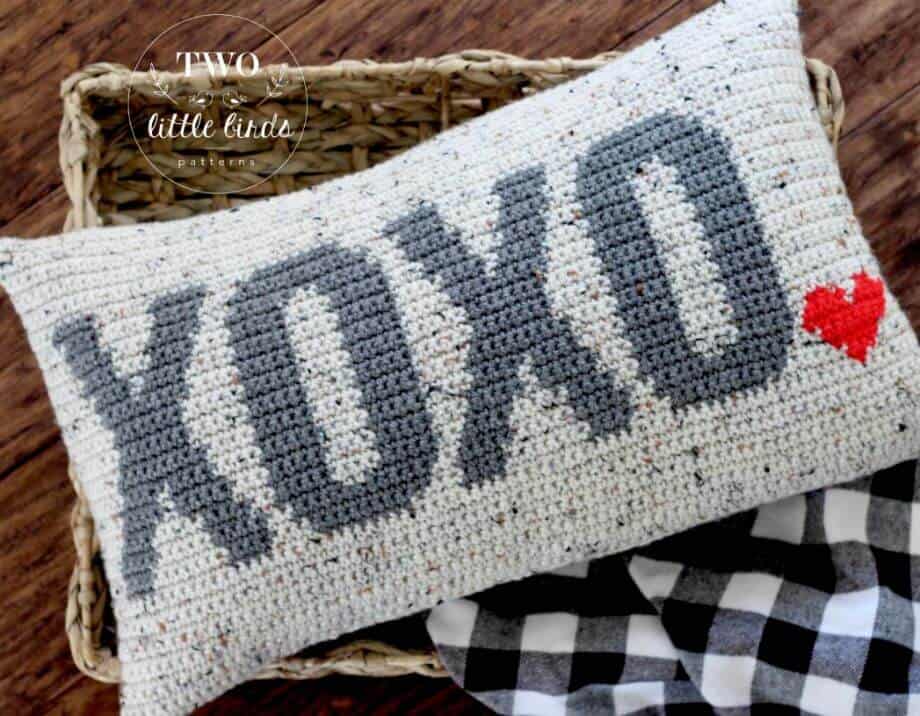 Emily from TLBPatterns on Etsy makes my favorite crochet pillow patterns! She has a great way of combining homey themes with modern style. Her XOXO pillow is a perfect example! I'd love to make this to put on my entryway bench during the month of February.
5. Itty Bitty "Love Me" Kitty by Thoresby Cottage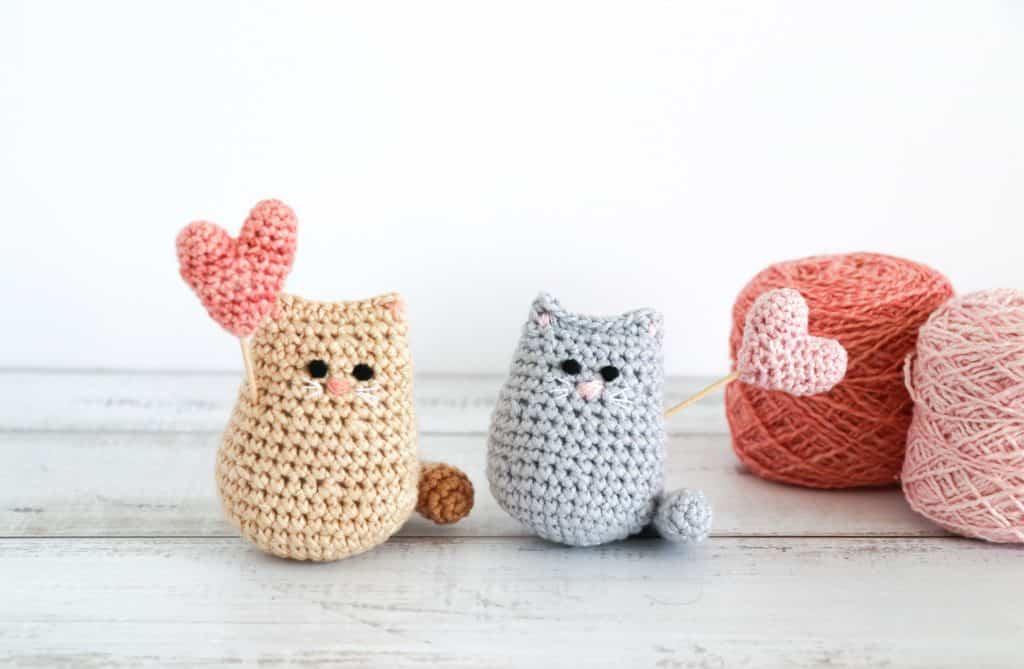 Do you have any cat-lovers in your life? Why not make one of these adorable Valentine kitties to look like their furry BFF? Caitie from Thoresby Cottage has this cute pattern on her blog for free!
6. Wind Rose Heart by Emma Wilkinson Designs
The colors in the Wind Rose Heart are so striking, and you could use this heart pattern in lots of different ways – strung together in a garland, as a single ornament, or even as an applique on a blanket. Emma from Emma Wilkinson Designs has the pattern here as a free Ravelry download.
7. Heart Motifs Valentine Blanket by Peach Unicorn Designs
Peach Unicorn Designs has created this amazing blanket using whites, pinks, and reds in a repeating heart motif. I love the way she used puff stitches to form these perfect heart shapes! You could use the basic pattern to make a blanket of any size and color combination too.
8. Sweet Ivy Toque by Snuglee Bug Knits
I adore everything about this crochet heart hat – the colors, the thick knit look, and that fluffy pom pom! Snuglee Bug Knits has done a great job with this crochet pattern and best of all, it's available in her Etsy shop in a variety of sizes!
9. Conversation Hearts by Made With a Twist
I remember getting the little boxes of candy hearts as a girl and hoping to find something slightly cryptic but clearly telling me the boy I liked also liked me (I did the same thing with magic 8 balls). These conversation hearts by Made with a Twist are even better because you can stitch on your own message! Not only that but there's a little pocket on the back to tuck in a treat. Find them here for free.
10. Heart Garland by Crochet to Play
This heart garland is a personal favorite of mine. After I made it, I hung it in my little girl's window and she still likes having it there to this day. The hearts are granny square inspired and work up really quickly. It's available as a Ravelry download that you can print or keep in your Ravelry library.
---
Did you find inspiration for a new project, for a gift, or even for yourself? I hope so! There are so many sweet Valentine's Day crochet patterns here it might be hard to decide where to start! If you'd like to keep these ideas handy, click here or the image below to save to Pinterest. Happy Valentine's Day!
© 2023 Crochet to Play
All rights reserved. This blog is property of Crochet to Play.  The writing and images are for personal use only.  Please do not redistribute, transfer, or sell the writing or images, in part or in whole. Thank you.